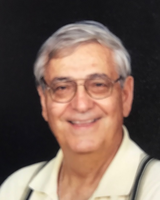 Peter J. Riga
Dear father of Christine,
P.J. (Nicole) and Thomas
(Michelle) Riga and survived
by their mother Violet Puntu-
riero; Marie Claire Riga and
her mother Patricia Richartz;
Loving grandfather of Liana,
Alicia, Luke, Sara, Alexandra,
Nicole and Aidan.
Son of the late John and
Margherita (Cannito) Riga;
Brother of Victoria (Dave)
and Frank (Ann) Riga; uncle
of Carl, John, Peter, Paul,
John T., Mary, Joseph, Francis
and Jeanne.
A Mass of Christian Burial
will be held Friday at 9:30AM
at St. Thomas Aquinas
Church (please assemble at
church). Friends may call
Thursday from 6-8 PM at
the JAMES W. CANNAN
FUNERAL HOME, INC.,
(Southtowns Chapel), 3155
Orchard Park Rd.
In lieu of flowers, donations
may be sent to the Wounded
Warriors Project.
Dr. Riga was an attorney,
author and professor of law,
philosophy and theology. Dr.
Riga was a former priest for
the Diocese of Buffalo and
was a US Army Chaplain.