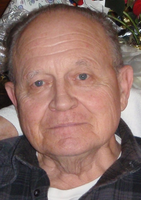 Howard M. Scholl
Survived by his beloved wife Audrey A. Scholl and five children,
Martin (Lori) Scholl, Howard (Debra) Scholl Jr., Eleanora (Richard) Zorich, George (Late Carol) Scholl and Randy (Dawn Marie) Scholl. He was the loving grandfather of seventeen grandchildren and seventeen great grandchildren.
Son of the late Martin and Dorothy (Krege) Scholl. Brother of the late Joan (Late Edward) Kadziolka, Late Ronald (Astrid) Scholl,
Norma Gumhalter, Thomas (Martha) Scholl and Dorothy (Bernard) Higgins.
Mr. Scholl was born in Buffalo, NY on 03/14/1934. He was a veteran of the Korean War and served in the United States Navy. Mr. Scholl retired from the Niagara Frontier Transportation Authority as a supervisor with forty years of service. He also retired from Sweet Home Central School District as a school bus driver with thirty-one years of service. He had a way of warming your heart with his smile and many stories of quality times spent with his family and friends. He will be remembered most for his hard work and dedication to his family and his beloved wife Audrey of sixty-three years.
Funeral Mass will be held at 10 a.m. on Friday, May 25, 2018 at St. Joseph's Church 3269 Main St., Buffalo, N.Y. 14214. No prior visitation. In lieu of flowers, donations may be made in Howard Scholl's memory to John R. Oishei Children's Hospital 818 Ellicott Street, Buffalo, NY 14203.