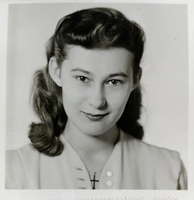 Pauline M. Nurt
Passed away peacefully on Monday
July 22nd, surrounded by her family.
Paulina is survived by her sister
Nellie Burnagiel; sons Richard Nurt
(Karen) and John Nurt (Kathleen);
her daughters Renata Kraft (Michael)
and Larissa Doyle (Kenneth); and
grandchildren Alexandra, Jakob,
Julianna and Genevieve Kraft and
Isabella and John Patrick Nurt. Paulina
is preceded in death by her parents
Karol and Olga Banier (nee Guderian),
her husband Jerome J. Nurt (Jozef
Jerzy Niedzwiecki) and her sister Elvira
Van Kleef. Paulina was born on June
26th, 1932 in Dnipropetrovsk, Ukraine
and survived the Holodomor Famine
in her infancy. She left Ukraine at the
age of nine and lived in Poland and
Germany before immigrating to the
United States, where she became a
citizen. She met her husband in Buffalo,
NY, and they were married in 1955.
Paulina was fluent in five languages
and was a gifted poet, artist and
musician. Visitation will be from 4pm to
7pm on Sunday, July 28th at JAMES
W. CANNAN FUNERAL HOME INC.
(Southtowns Chapel), 3155 Orchard
Park Rd. A Solemn Requiem Mass will
be held at 1pm on Monday, July 29th at
St. Anthony of Padua Catholic Church
at 160 Court Street in Buffalo.